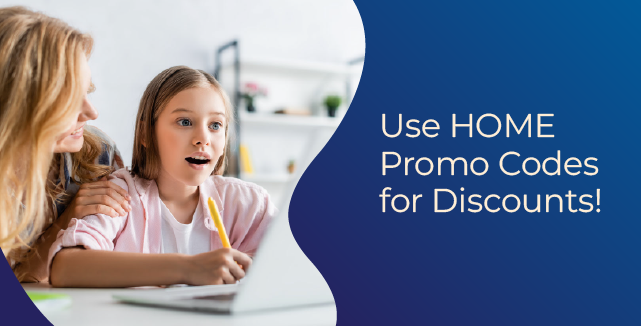 * In addition to the programs and courses listed below, many colleges offer early college and dual enrollment classes. Check out our Homeschool Friendly Colleges page to see if earning college credit in high school is an option for your student.
Does homeschooling during the high school years seem like a daunting task? Take some courses through the HSLDA Online Academy! Use HOME's unique promo code, PTHOME30 to receive a $30 off your registration, and support HOME, too!
The Academy was established to encourage families to continue homeschooling through high school by providing quality, Christian courses to supplement their students' education. These live, interactive courses are among the best available, and at prices we believe to be the lowest available anywhere for comparable online courses. In addition, the Academy gives HSLDA members a significantly reduced price off of these already affordably priced courses. Learn more about course offerings here.
Enter HOME's promo code PTHOME30 in the "coupon" field when you register.  
Math can be a challenge for many homeschoolers, especially during the junior high and high school years. Today, thanks to new amazing 21st Century technologies, there is a Six Tier Math Program that homeschoolers can deliver to their children that is vastly superior.
The "Succeed with Math" Crusade is designed for:
Students just beginning post-elementary math
Students who struggle or hate math
Students who want the best college math preparation possible, especially if going into a STEM subject 
HOME families are already finding great success through this program. You can join, too, using our special coupon code: HOME. You will benefit, and so will HOME!  
Your solution to online homeschooling. One low price, no matter how large the family!
Every Subject. Every Grade. Every Student.
Homeschoolers of Maine has partnered with The Old Schoolhouse® as an affiliate of SchoolhouseTeachers.com. Join using the HOME affiliate link below for a deep discount! Plus, a portion of your membership fee goes to support the work of HOME!
You will have access to:
Hundreds of courses (PreK-12)
Streaming videos and eBooks
World Book
Online interactive content
Downloadable lessons
And much more!
You'll also receive a year of the print subscription from the TRADE Magazine for homeschooling families.
Get your discounted family membership to SchoolhouseTeachers.com today! One year for only $179. 
Our Structure and Style® writing method will give you the ability to fill your student's toolbox with confidence-building tools, laying the groundwork for a lifetime of excellent writing.
Click here to order and support Homeschoolers of Maine.
Are you looking for a gap year, dual credit, or a full college experience? Ascend can accommodate you!
Ascend by Unbound is an intense college experience designed to catalyze, enable, and energize Christian homeschoolers. Ascend students don't just get access to an air-tight academic plan to earn a bachelor's degree, they become leaders and innovators with a world-class community that has their back.
Whether your student is in the program for one year or four, your student will get leadership opportunities, Christian community, registration and travel to live events, and rock-solid academics. Plans are flexible from 9-30 college credits per year.
HOME families get $150 off enrollment! Apply or schedule an appointment today!
Maine's Early College Programs give high school students dual credits and classroom experience!
During the high school years, homeschoolers have access to FREE or low-cost college courses through the University of Maine System. There are five requirements: 
1. The student's educational program must meet Maine's legal requirements for home instruction.
2. The college must have space in the classroom for the student.
3. The student must have completed all course prerequisites.
4. The student must submit such evidence of academic fitness as the college may request.
5. The student must receive the college's approval of the student's academic fitness.
6. All students must file a letter of intent and annual assessment results, even if they have reached the 17th birthday, in order to participate in early college courses. 
For more information on Maine's Early College Programs, visit Early College Programs.